Graduated in percussion at the Conservatory of S. Cecilia in Rome, he subsequently obtained a master's degree in Film Music at the Berklee College of Music in Boston and studied composition with Sergio Rèndine.
He worked and worked as arranger for Dee Dee Bridgewater, Gino Paoli, Nina Zilli, Red Canzian, Fabio Concato, Fabrizio Bosso, Danilo Rea, Giò Di Tonno, Simona Molinari and many others.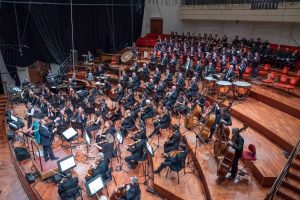 He has conducted many internationally renowned orchestras including: London Symphony Orchestra, Orchestra Sinfonica Nazionale della Rai, Orchestra Filarmonica Arturo Toscanini, Orchestra Sinfonica Scarlatti, Orchestra Filarmonica Marchigiana, Orchestra Filarmonica di Torino, Istituzione Sinfonica Abruzzese, Orchestra della Magna Grecia, Orchestra Metropolitana di Bari, I solisti aquilani and other symphonic and chamber ensembles.
Always attentive to the contaminations he has realized, taking care of the composition, the arrangement, the orchestration and the direction of the orchestra, important recording projects ranging from classical music to jazz, with contemporary and modern stylistic references. It is certainly worth mentioning "Madiba", a modern opera for jazz soloists, polyphonic choir, chorus of white voices, reciting voice and symphonic orchestra dedicated to Nelson Mandela on the occasion of one hundred years from birth and performed in world premiere with the Orchestra Rai National Symphony, at the Rai A. Toscanini Auditorium of Turin on commission of the "Moncalieri Jazz Festival"; it should also be remembered "Enchantment", the tribute to Maestro Nino Rota, recorded with Fabrizio Bosso and the London Symphony Orchestra, a recording and live project recognized as one of the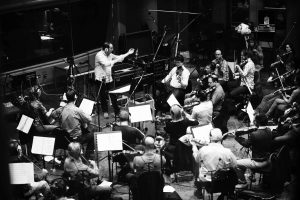 best CD of 2011 for which the Sugar of Caterina Caselli has also entrusted Fonzi with the exclusive commission to elaborate and arrange an unpublished theme of Maestro Nino Rota.
In 2013, together with the extraordinary jazz pianist Danilo Rea, "Adagio" created a program dedicated to the great symphonic music in a contemporary key, revisiting important pages of authors such as Tchaikovsky, Ravel, Puccini, Faurè and using the piano at the same time. inside the orchestra as an instrument belonging to a great classical concert, but totally improvised.
Also in 2013, together with Danilo Rea he composed the soundtrack of the docufilm "When there was Berlinguer" directed by Walter Veltroni, released in cinemas in March 2014 and subsequently distributed by Sky Cinema.
In 2015 he worked on a modern work entitled "Amen", written on the occasion of the one hundredth anniversary of the Armenian Genocide. On that occasion, among others, he also composed a song together with Renato Zero entitled "Vengo da te".
In 2017 he realized, exclusively for Moncalieri Jazz, a monographic concert on the Maestro Armando Trovajoli on the occasion of the one hundredth anniversary of his birth, a project entitled "Il tarlo del jazz", re-elaborating the music of Trovajoli for string orchestra and trio jazz, in a language that always goes between classic and jazz, with further contemporary stylistic contaminations.
He is the author of the soundtracks of the "Set-up" films by Boanerges Centeno and "La città invisibile" by Giuseppe Tandoi, he also composed the acronyms of Radio Rai Gr Parlamento, the television and radio commercial of UNICEF, and "Ricciarelli Sapori" on the air on the national networks, with which he won the mediakey award, an important recognition in the television sector.
His music is used in several television programs, including: La vita in diretta; Uno Mattina; La storia siamo noi; La grande storia; Sulla via di Damasco; Timbuctu; Gaia Files; Un mondo a colori; Otto e mezzo; Cominciamo Bene;; appears in many DVDs, on the market and in combination with the most important national newspapers (La Repubblica, Il Corriere della Sera, La Gazzetta dello Sport).
He participated in the 64th edition of the Italian Song Festival in Sanremo as arranger and conductor accompanying two exceptional guests: Gino Paoli and Danilo Rea.
He has held concerts in major theaters and theaters in many countries of the world including Radio City Hall in New York, Apollo Theater in London, Royal Albert Hall in London, Auditorium Arturo Toscanini Turin and many others.